My goodness, I am so excited to finally do the first release of these photos from our team of Minnesota Wedding vendors! This styled shoot was a joy to complete. Planning for this styled bridal shoot has been in the works since mid-summer! Through this all, The Hawk & Sparrow had the opportunity to work first hand with many amazing vendors! Every vendor in this styled shoot, we would highly recommend if you are planning a wedding in Minnesota (or Travel, depending on the vendor)! We are thankful we have had the pleasure of making friends with most of these wedding vendors over the last year.
We love our Minnesota Wedding Vendors!
We started with the simple idea of using sparklers, thanks to BuySparklers.com for their generous contribution. I then spoke with Christina and Adam of Minnesota wedding planning company Dos Goats Plans. Christina informed me they already had some fun things in the works for a night and moon styled wedding shoot so we decided to join forces.
All in the details
We continued to expand our reach adding Minnesota Videographer Jessie Mast of Mast Wedding Films, Floral by M Floral Studio, and Wedding Stationery by Kristina Designz. We did a model call and had so many lovely local models from the twin cities area apply to be our brides. Yes, Brides, We decided to do this shoot with a same-sex couple, and it went wonderfully! They even went and got fitted for their rings together!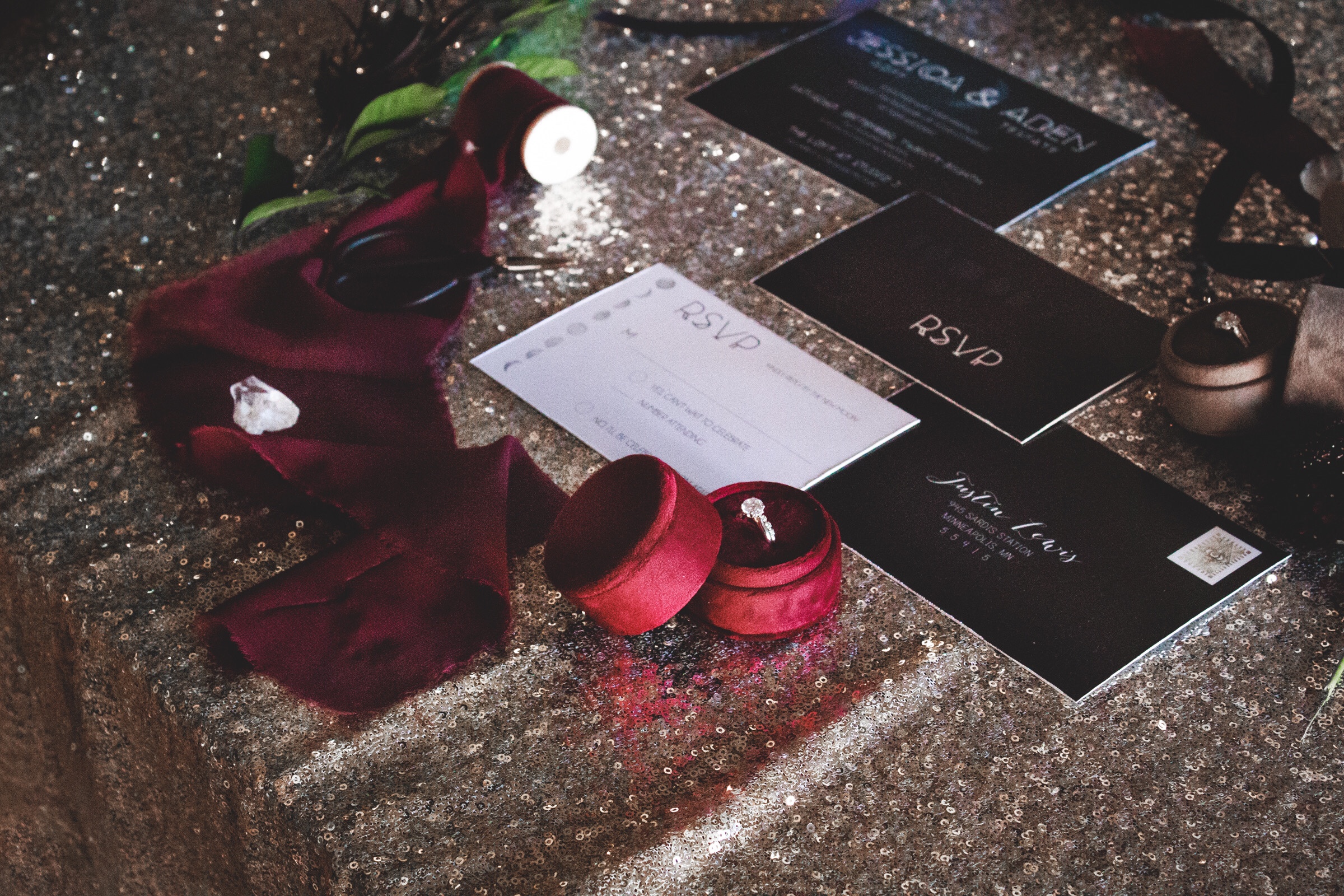 After we had some basic details down we began searching for a venue. Christina from Dos Goats Plans found The Loft at Studio J in Stillwater, MN. It was perfect so she met with them and they were happy to be on board with our event.
After finding out models we continued the process with Bopha Sar for our custom bridal wear. A process that she made easy and a joy. Our models each had custom fittings to make their bridal wear perfect in every way.
Now the final details, Hair, and Makeup were artfully done by Sarah Jane Salon. Rings were provided by The Jeweler Ryan. The decor was provided by Something Borrowed Minneapolis to help our vision come to life, and last but not least the lovely hand-painted canvas backdrops were painted by Olivia J Designs.
Instagram links for vendors
Minnesota Wedding Photographer | @thehawkandsparrow
Planner & Design | @Dos_goats_plans
Videographer | @mastweddingfilms
Bridal Wear | @bophasar_atelier
Models | @_jessgoff & @adeneye18
Flowers | @mflowerstudio
Stationery | @kristinadesignz
Venue | @studioJloft
HMUA | @sarahjanesalon
Decor | @somethingborrowedminneapolis
Canvas Backdrop | @oliviajdes
Jewelry | @thejewelerryan
And a thanks for Forever Bride for being such a support in the wedding community. @foreverbride